The Auditorium - event location at the Jacob-und-Wilhelm-Grimm-Zentrum
The Auditorium – the central lecture hall for events at the Jacob-und-Wilhelm-Grimm-Zentrum – is a perfect location for lectures, symposia, conferences, panel discussions, readings, receptions and other events.
Contact for further information:
a) For members of the Humboldt-Universität:
The department of public relations of the University Library at the Humboldt-Universität
b) For non-members of the Humboldt-Universität (fee required):
Basic data
Seating (freely arrangeable) for about 150 participants, podium, lectern
State-of-the-art equipment (data projector, auditorium and wireless microphones, equipment for video conferencing)
(For further information see below)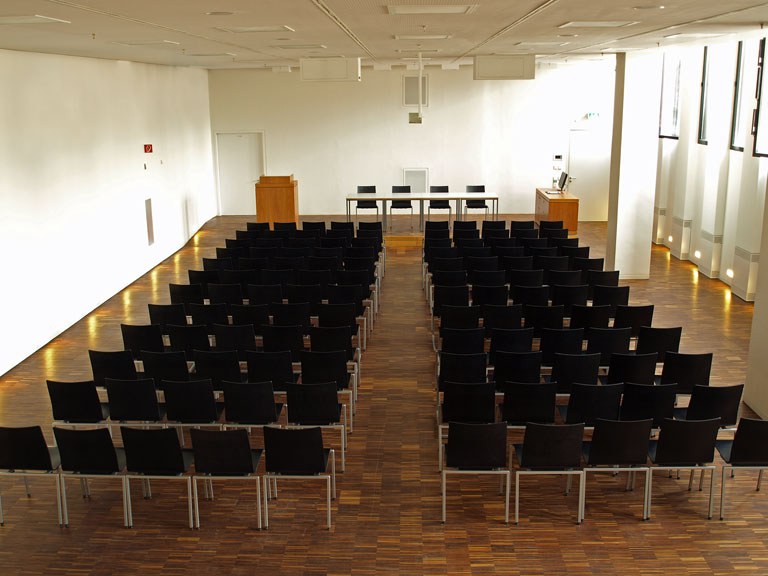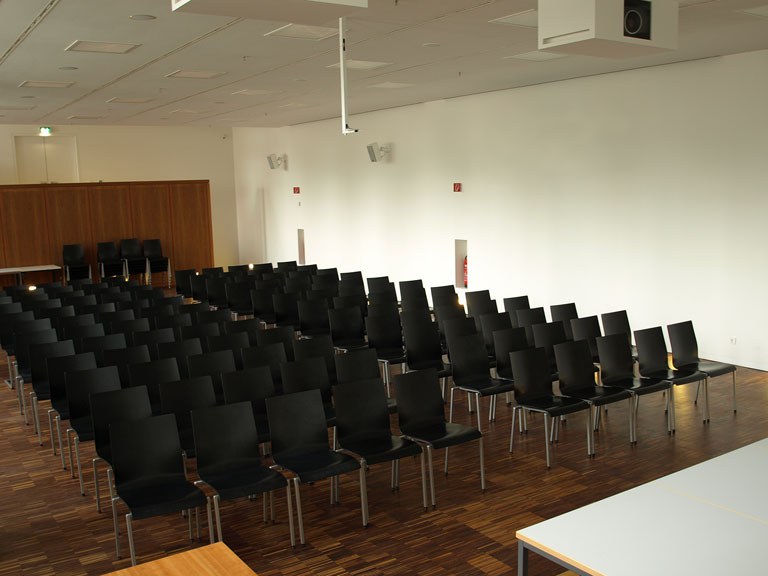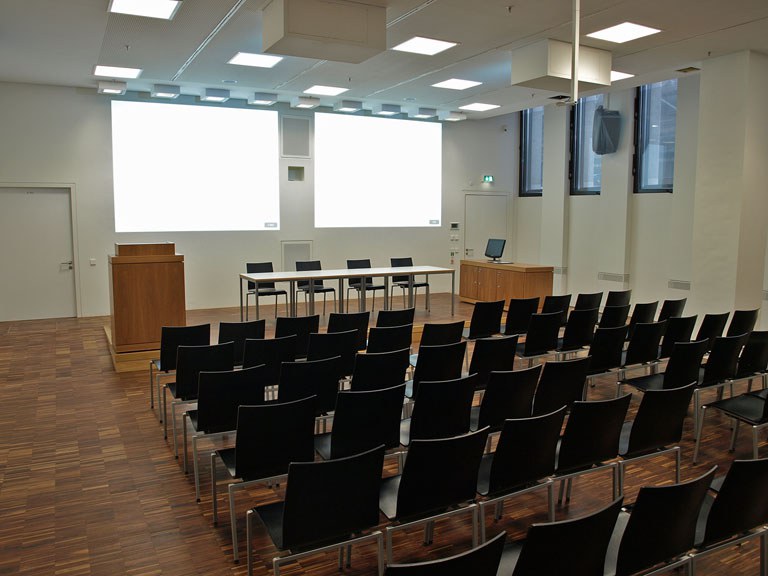 Access
Location: ground floor / basement at the eastern part of the building, at Geschwister-Scholl-Str. 1
Elevator for barrier-free access
Entrance for visitors: via side entrance and revolving door at Geschwister-Scholl-Str. 1
Please note that the Auditorium can only be opened or locked by our Security Attendants and the organiser must deliver the detailed agenda seven days in advance of the beginning of the event.
Furnishings
Lecture hall with room for up to 150 chairs [no conference room, i.e. no desks for participants]
Podium with room for up to six desks and lectern
Please send us the information about your seating requirements (number of chairs and their arrangements) seven days prior to the beginning of the event.
Equipment
Combined light, sound and vision technology
Data projector, microphones for auditorium and for wireless use [N.B.: laptops are not included and must be brought by the organisers themselves]
Video conferencing: for information (in German only) on its application as well as the reservation of events, please use the website of CMS
Introduction to the technical equipment plus sound and vision check in advance of the event
We cannot offer any assistance during the event; please arrange an extra date for the introduction to the technical equipment in advance.
Wardrobe
Three mobile coat racks in the Auditorium
Catering
Meals and drinks (self catering; finger food etc.) are only possible in the Auditorium itself but not in front of it or in the lounge.
Three tables for arranging a buffet
Signposting and notices
One information rack (A3 length size) by the entrance door in the lounge and one change frame nearby
Toilets
Toilet for disabled visitors in easy reach of the Auditorium (only with Euro Key)
At the lockers in the basement
Files for downloads (in German only)
"Leitfaden Nutzung Auditorium 2022" ("Auditorium guidelines") as PDF-file
"Nutzungsvereinbarung Auditorium 2022" ("Terms of use") as PDF-file